Adventure Travel in Bhutan
Your spectacular flight into Bhutan is a great introduction to this beautiful Buddhist Kingdom, also known as Druk Yul, the Land of the Thunder Dragon. You have breathtaking views of many Himalayan peaks, including the sacred Jhomolhari and Mt Jichu Drake in Bhutan and Mt Kanchenjunga, the 3rd highest mountain in the world, on the Sikkim-Nepal border.
More about Adventure Travel in Bhutan >
Our trips in Bhutan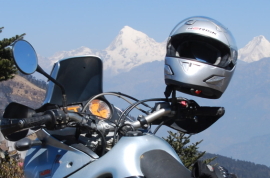 Bhutan… the name echoes with all the mystery of an ancient Buddhist Kingdom, so isolated for so long that it has developed its own truly unique forms of culture, architecture, food and clothing styles.
Details
Book/Ask