Adventure Travel in Morocco
Morocco's dazzling mosaic of African, Arab and Berber cultures - with a dash of European influence - is at once strange and romantic, alluring and discomfiting. It's little wonder that Morocco has regularly drawn seekers of the exotic.
More about Adventure Travel in Morocco >
Our trips in Morocco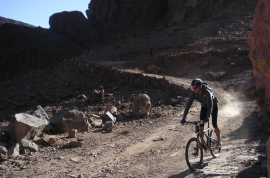 10 days super mountain biking in Morocco. Explore the High Atlas mountain and the amazing lunar-like landscapes of the desert mountains of the Jebel Sarhro.
Details
Book/Ask
Great winter biking in the spectacular oasis of the Draa Valley and the Jebel Sahro on the edge of the Sahara.
Details
Book/Ask